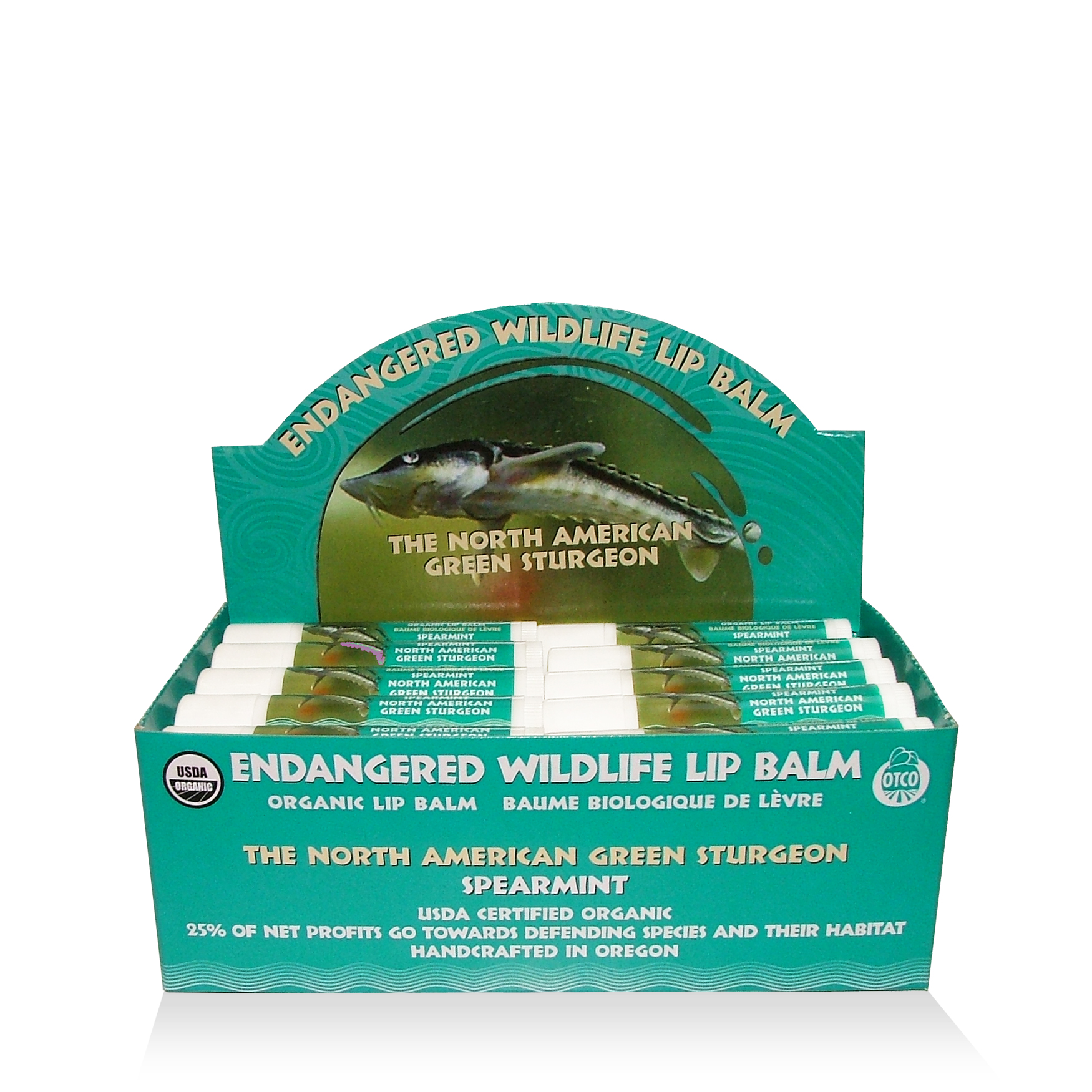 The North American Green Sturgeon – Spearmint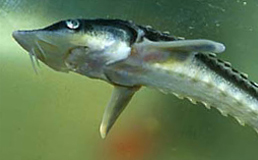 The San Francisco Bay-Delta and Sacramento-San Joaquin river system are home to a rare, enormous species of living fossil called the green sturgeon (Acipenser medirostris). The ancient fish has survived unchanged for almost 200 million years, but is now at the brink of extinction from over harvesting and rapid habitat change.  Among the largest, longest-living fish in freshwater, sturgeon can reach seven feet long, weigh 350 pounds and survive to be 70 years old.
Today there are only two distinct populations of North American green sturgeon, with as few as 50 spawning-age sturgeon left in the southern population in California.  After submitting a listing petition and filing a lawsuit, the Center for Biological Diversity (CBD) won protection for this population as a threatened species in 2005. Thanks to the CBD's 2007 lawsuit, a whopping 8.6 million acres of critical habitat was granted to the southern green sturgeon.  Also, the National Marine Fisheries Service finalized additional regulations that protect the population from poaching and other harmful activities. The CBD continues to fight for full Endangered Species Act protection for the sturgeon's northern population.
Because sturgeon are highly vulnerable to over fishing, and fisheries for green sturgeon have depleted the stocks of large, old fish that are essential for spawning, the states of California, Oregon, and Washington restricted sport fishing of green sturgeon after federal protection was established. But the fish are still highly imperiled by extensive habitat loss. The CBD's Bay-Delta Campaign is aimed at protecting the green sturgeon's deteriorating habitat in the San Francisco Bay-Delta. The CBD is leading efforts to reduce the use of pesticides that run off into the Delta.  With the help of allies, the CBD is working to force the U.S. Bureau of Reclamation to provide adequate passage for green sturgeon over the Red Bluff Diversion Dam into the habitat they need to spawn in the upper Sacramento River.
The Center for Biological Diversity has shown an extraordinary level of effectiveness in protecting our environment. They believe that the welfare of human beings is deeply linked to nature, specifically to the existence of a vast diversity of wild animals and plants. Because diversity has intrinsic value and because its loss impoverishes society, they work to secure a future for all species, great and small, hovering on the brink of extinction. They do so through science, law, and creative media, with a focus on protecting the lands, waters, and climate that species need to survive. For these reasons and more Endangered Wildlife Lip Balm is excited to support their cause and the CBD is currently the sole beneficiary of our philanthropy. For more information about the CBD visit www.biologicaldiversity.org.
Endangered Wildlife® Lip Balm's mission is to protect endangered species and their habitat through the promotion of eco-conscious, organic body care products. To further this mission, we financially support individuals and groups who share these values.
25% of profits donated to protect endangered animals & their habitat.
ENDANGERED WILDLIFE® LIP BALM: Organic Lip Therapy for a Worthy Cause
USDA Certified Organic; Oregon Tilth Certified Organic.
Petroleum, Preservative, Gluten & Cruelty FREE.
Environmental & Sustainable Practices, Products & Facilities.
Handcrafted with care: all of our products are mixed and poured by hand. Creating them in small batches allows our production staff to pay close attention to the details of our process, insuring the finest quality and consistency.
Protection Status: Threatened (southern population).
Year Placed on the List: 2006
Critical Habitat: 8.6 million acres of river, estuary, bay, and coastal marine habitat in California, Oregon, and Washington designated in 2009.
Recovery Plan: In development.
Range: In the ocean from the Bering Sea, Alaska to Ensenada, Mexico; in estuaries and bays from British Columbia, Canada, to Monterey Bay, California; in river mouths from the Skeena River, British Columbia to the Sacramento River, California; spawning sites only in Oregon's Rogue River and California's Klamath and Sacramento river systems.
Threats: Water withdrawals from spawning rivers, dams blocking access to spawning habitat, habitat alteration, over fishing, poaching for caviar, pesticides, and pollutants.